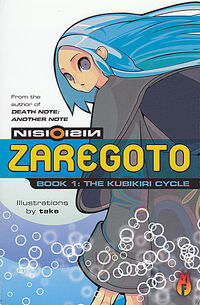 The Zaregoto Series (戯言シリーズ, Zaregoto Shirīzu) is a light novel series written by Japanese novelist Nisio Isin and illustrated by Take. The series was published in Japan between February 5, 2002 and November 2005 by Kodansha Books. It was followed by a spin-off series also published by Kodansha Books, the Ningen Series, (人間シリーズ, Ningen Shirīzu), focusing on the Zerozaki Clan.
The story revolves around protagonist I and the mysteries he encounters, but after the second book, the series comes with more and more fighting and action. I tends to try in vain to keep out of the story, but instead of being the bystander he wants to be, he always gets dragged into the center of everything. Though it seems I does a lot in the story, he always finds out at the end that whatever he did was meaningless.
Development
Edit
The Beheading Cycle went through a number of drafts; Tomo Kunagisa was originally intended to be the series' protagonist,[1] but during the rewriting process, Nisio Isin realized that I had become more important. After finally completing the novel, Nisio Isin proceeded to write Strangulation Romanticist in three days.[2] With Hanging High School, Nisio Isin began consciously moving the series away from traditional mystery novel structure.[3][4]
Reception
Edit
The series has been selected by Kono Light Novel ga Sugoi! three times as one of the ten best light novels of the year: in 2005 when it ranked second,[5] in 2006 when it topped the list,[6] and in 2007 when it placed third.[7]
The series was a bestseller, and grew in popularity as it went on. While the first volume debuted at number eight on the novel charts,[8] the final volume debuted at number one[9] and remained at the top for three weeks.[10]
English Release
Edit
The first volume of Zaregoto, The Kubikiri Cycle, was released in North America in July 2008 by Del Rey Manga and the second volume The Kubishime Romanticist was released in June 2010, also by Del Rey Manga.[11] Since then, Vertical Inc has picked up the license for the series and, thus far, has re-released The Kubikri Cycle and The Kubishime Romanticist in English.
References
Edit
External Links
Edit
Community content is available under
CC-BY-SA
unless otherwise noted.